Discussing culture with Piotr Gliński
Discussing culture with Piotr Gliński
Last Wednesday, October 17, our General Director Damian Tanajewski participated in a discussion entitled "The past, the present and the future of culture in Podlasie" during Christian Culture Days. The guest of honour was the Minister of Culture and National Heritage Prof. Piotr Gliński.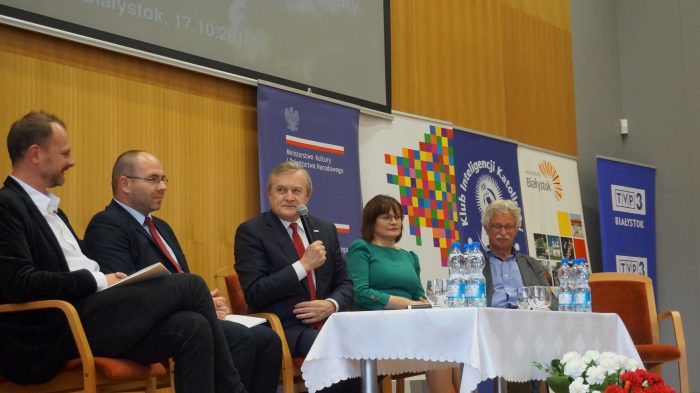 The panel, scheduled as part of the 36th Christian Culture Days in Białystok, consisted of representatives of cultural institutes in Podlasie: general director of Podlasie Opera and Philharmonic—Damian Tanajewski, general director of the Aleksander Węgierko Drama Theatre—Piotr Półtorak, general director of the Podlasie Museum in Białystok—Andrzej Lechowski, and the Voivodeship Conservating Officer for Historic Monuments—Małgorzata Dajnowicz, and additionally Archbishop Tadeusz Wojda and Bishop Henryk Ciereszko.
During the conference, Piotr Gliński referred to some of the ideas regarding cultural policy of the city. He recognised strong cultural potential in Białystok and did not forget to underline Podlasie Opera and Philharmonic's role as one of the biggest cultural centres in the Eastern Poland of such a rich repertoire.
Read more (in Polish) on the websites of Ministry of Culture and National Heritage or Polish Radio.