Starting the jubilee season! Subscriptions in sale
Starting the jubilee season! Subscriptions in sale
Together we are starting the 65th jubilee artistic season! September 2 (Monday) subscriptions for autumn quarter of 2019 will be in sale. 65 years of musical exhilarations are behind us. We promise the next are coming. Let us see the new symphonic repertoire!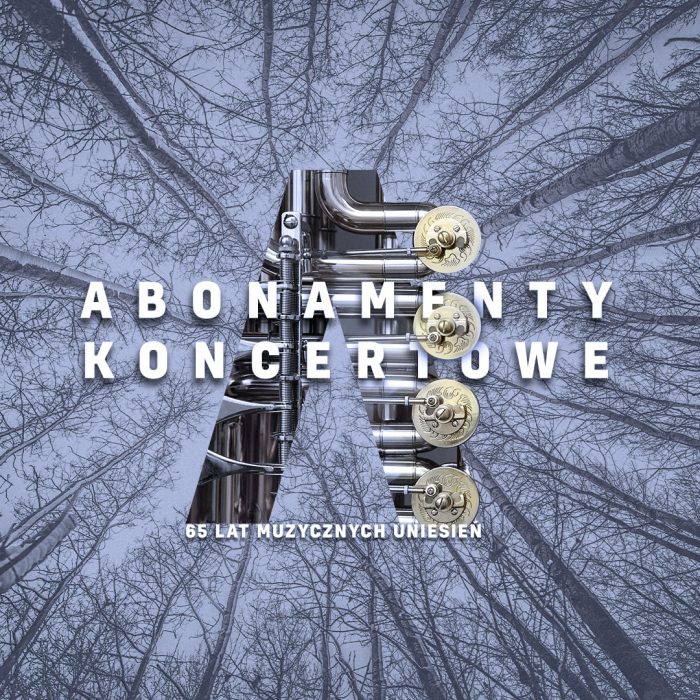 In this quarter the Podlasie Opera and Philharmonic will celebrate the jubilee on the philharmonic stage with:
—conductors—Mirosław Jacek Błaszczyk, Marek Pijarowski, Juozas Domarkas, Piotr Wacławik, Tadeusz Strugała, Dawid Runtz;
—singers—Emil Ławecki (tenor), Iwona Socha (soprano), Roksana Wardenga (alto), Mihail Mihaylov (tenor), Grzegorz Szostak (bass), Katarzyna Trylnik (soprano), Anna Wolfinger (soprano), Joanna Motulewicz (mezzo-soprano), Rafał Bartmiński (tenor), Maciej Nerkowski (baritone);
—soloists—Piotr Pławner (violin), Tomasz Strahl (cello), Tymoteusz Bies (piano), Krzysztof Jakowicz (violin), Zuzanna Sosnowska (cello), Zbigniew Raubo (piano).
Also performing will be of course our Choir prepared by Violetta Bielecka, the Children's Choir conducted by Ewa Barbara Rafałko, and the Big Band directed by Andrzej Makal.
The fourth quarter of 2019 will consists of 11 concerts. Standard Music Lover's Subscription can be purchased in the price of 394 PLN or, for concession tickets, 319 PLN. You save 25% compared to the summed cost of single tickets and you are guaranteed a seat of your choice at every concert from the package. You can also choose Your Own Subscription: you pay the regular price of 5 concerts of your choice and get an additional one for concert on October 11 for just 1 PLN. You can purchase the subscriptions in Opera's box office from September 2 to September 20, 2019. More info here: Subscriptions.
That's not all! To the Music Lover's Subscription we add a coupon with 10% discount for "The Nutcracker" performed by Ballet Opera of Kiev.
WHAT ARTISTRY!
20 IX 2019
Concert Hall / Podleśna 2 / 19.00
INAUGURATION OF THE 65TH ARTISTIC SEASON
Podlasie Opera and Philharmonic Orchestra
Mirosław Jacek Błaszczyk—conductor
Piotr Pławner—violin
Jean Sibelius—Violin Concerto in D minor, Op. 47
Witold Lutosławski—Concerto for Orchestra
ROOTS OF CULTURE
27 IX 2019
Concert Hall / Podleśna 2 / 19.00
FAIRYTALES, LEGENDS, DEVILS AND PRAYERS
Podlasie Opera and Philharmonic Orchestra
Marek Pijarowski—conductor
Tomasz Strahl—cello
Modest Mussorgsky—"Night on Bald Mountain"—fantasy for orchestra
Piotr Moss—"Prières"—concerto for cello and orchestra
Maurice Ravel—"Ma Mère l'Oye"—suite
Richard Strauss—"Till Eulenspiegels lustige Streiche"—symphonic poem
BRZECHWA MUSICALLY
11 X 2019
Concert Hall / Podleśna 2 / 19.00
CHILDREN'S WORLD IN A SONG
Podlasie Opera and Philharmonic Children's Choir
Ewa Barbara Rafałko—conductor
In programme Jan Brzechwa's poems to the music arranged by Marcin Nagnajewicz, eg. "Na straganie," "Pomidor," "Siedmiomilowe buty," "Kwoka," "Tańcowała igła z nitką," "Wielbłąd i hiena"
POET OF THE PIANO
18 X 2019
Concert Hall / Podleśna 2 / 19.00
170TH ANNIVERSARY OF THE DEATH OF FRYDERYK CHOPIN
Podlasie Opera and Philharmonic Orchestra
Juozas Domarkas—conductor
Tymoteusz Bies—piano
Fryderyk Chopin—Piano Concerto No. 2 in F minor, Op. 21
Dymitr Szostakowicz—Symphony No. 5 in D minor, Op. 47
POSTCARD FROM POLAND
25 X 2019
Concert Hall / Podleśna 2 / 19.00
THREE POLISH COMPOSERS FROM THREE PERIODS
Podlasie Opera and Philharmonic Orchestra and Choir
Piotr Wacławik—conductor
Krzysztof Jakowicz—violin
Emil Ławecki—tenor
Violetta Bielecka—choir preparation
Karol Kurpiński—Overture to the opera "The Castle of Czorsztyn"
Karol Szymanowski—Violin Concerto No. 1, Op. 35
Stanisław Moniuszko—"The Crimean Sonnets"
SALVATION
8 XI 2019
Concert Hall / Podleśna 2 / 19.00
HOMMAGE TO A POET
Podlasie Opera and Philharmonic Orchestra and Choir
Mirosław Jacek Błaszczyk—conductor
Iwona Socha—soprano
Roksana Wardenga—alto
Mihail Mihaylov—tenor
Grzegorz Szostak—bass
Violetta Bielecka—choir preparation
Giuseppe Verdi—Requiem
FORCE OF THE SOUL
15 XI 2019
Concert Hall / Podleśna 2 / 19.00
A CELLO AND A HORN
Podlasie Opera and Philharmonic Orchestra
Tadeusz Strugała—conductor
Zuzanna Sosnowska—cello
Carl Maria Weber—Overture to the opera "Oberon"
Édouard Lalo—Cello Concerto in D minor
Johannes Brahms—Symphony No. 2 in D major, Op. 73
ROARING TWENTIES AND THIRTIES
29 XI 2019
Main Stage / Odeska 1 / 19.00
ORDONÓWNA, BODO AND SONGS BY WARS
Podlasie Opera and Philharmonic Big Band
Andrzej Makal—music director
Jakub Szydłowski—director, vocal
Dorota Białkowska—vocal
Monika Ziółkowska—vocal
Bartłomiej Łochnicki—vocal
Maciej Nerkowski—vocal
In programme hits such as: "Vabank," "Umówiłem się z nią na dziewiątą," "Już nie zapomnisz mnie," "Na pierwszy znak," "Sex appeal," "Powróćmy jak za dawnych lat"
MUSICAL PEARLS
6 XII 2019
Concert Hall / Podleśna 2 / 19.00
CLASSIC WORKS IN MASTERFUL PERFORMANCE
Podlasie Opera and Philharmonic Orchestra
Dawid Runtz—conductor
Zbigniew Raubo—piano
Edvard Grieg—Piano Concerto in A minor, Op. 16
Ludwig van Beethoven—Symphony No. 7 in A major, Op. 92
OPERA GALA
13 XII 2019
Concert Hall / Podleśna 2 / 19.00
MONIUSZKO'S ARIAS AND DUETS
Podlasie Opera and Philharmonic Orchestra and Choir
Mirosław Jacek Błaszczyk—conductor
Katarzyna Trylnik—soprano
Anna Wolfinger—soprano
Joanna Motulewicz—mezzo-soprano
Rafał Bartmiński—tenor
Maciej Nerkowski—baritone
Violetta Bielecka—choir preparation
In programme the most beautiful arias, ariettas, duets, tercets, dances and overtures from the repertoire of Stanisław Moniuszko
GOD IS BORN
20 XII 2019
Main Stage / Odeska 1 / 19.00
CHRISTMAS CONCERT
Podlasie Opera and Philharmonic Orchestra and Choir
Mirosław Jacek Błaszczyk—conductor
Edyta Krzemień
Marika
Damian Aleksander
Jarek "Jaro" Chojnacki
Oliwia Mortel
Maja Sobolewska
Violetta Bielecka—choir preparation
Miśka Jackowska—announcer
In programme the most beautiful Christmas carols and songs