Białystok Interphoto 2019
Białystok Interphoto 2019
We kindly invite you to the 4th edition of photography festival Białystok Interphoto! Just like in previous years, the Podlasie Opera and Philharmonic hosts some of the exhibitions in its building. This year's theme are "The limits of time."
September 29 visit Odeska 1 to see the openings at 19.00, and to listen to the Ilo & Friends concert at 20.30.
The Podlasie Opera and Philharmonic hosts three festival exhibitions:
Heikki Leis "Post-truth era"
Mindaugas Kavaliauskas "A-spot"
Jiří Šigut "Latence"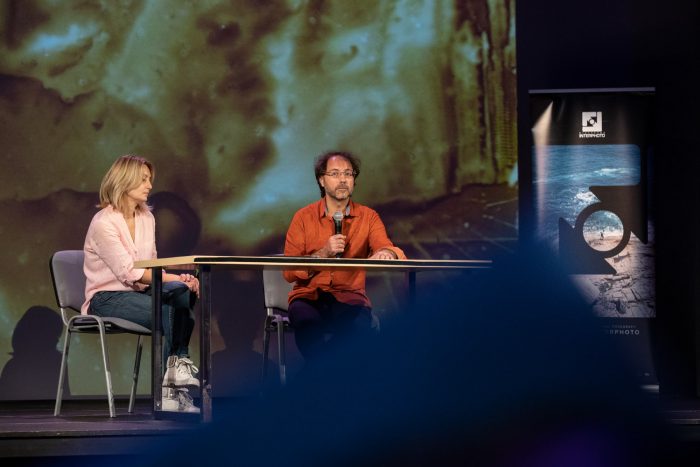 See Michał Heller's full relation from Monday's press conference on our photoblog.
Białystok Interphoto is an interdisciplinary festival. For eight years now it has been an international platform for the exchange of experiences and thoughts of artists from Eastern and Western Europe. The festival promotes photography and related media that make up the contemporary form of visual expression. In addition to the classic artists of this medium we present creators who employ modern themes and techniques, representing the neo-avant-garde or utilizing their art in criticism.
The main subject of the festival, regardless of an edition, is a border/a limit, this year's main subject is "From past to present. The limits of time." Using the medium of photography, we will explore social phenomena that concerned the previous and the present generations from the period after Poland regained independence, through those emerging directly after 1945, to the present day.
Białystok Interphoto is a recurrent festival at a high artistic level. It is held biennially, including not only exhibitions but also meetings, lectures, workshops, media shows, school competitions, works which couple photography with music or literature, location-based games. The offer is aimed at groups of all ages. The festival has been developing continually since 2013 and it is becoming the most important event of this type expected by spectators, artists, and critics not only in Poland, but also in east-central Europe. Within the confines of this year's edition, we have planned to involve 200 artists, 10 curators, 15 jurors. There are going to be: 30 exhibitions, 4 workshops, 4 film displays, Portfolio Review and the competitions: Interphoto Grand Prix, Street Art, Photography of the young, the show of the photos with live music, the scientific panel, 5 lectures, 30 meetings with the authors, an international stream press conference, solemn inauguration with an audience, the guests, the artists, the local authorities, the curators, the critics, the publishers; a picnic and a photographic walk. We have invited artists from Poland, Lithuania, Latvia, Estonia, Belarus, Ukraine, the Czech Republic, Slovakia, Slovenia, Germany, and the USA; the directors of photography festivals, the jurors and the critics from Poland, Lithuania, Estonia, Germany, Italy, Spain, Switzerland, Great Britain and the USA.
Our exhibitions are open to October 15. Can't miss it! And November 3, we invite you to in Odeska 1 for a festival picnic, where we will close and summarize this year's edition.