"From jazz to opera" is the biggest exbihition of Rafał Olbiński, great poster designer. For many years Olbiński has been designing covers for Polish "Jazz Forum" magazine, but reached world fame as an opera poster designer. He is one of the most outstanding poster design artists connected with the opera, theatre and music. He is also known amongst our music lovers as the author of the large-format work that decorates the 30-metre curtain of the Main Stage.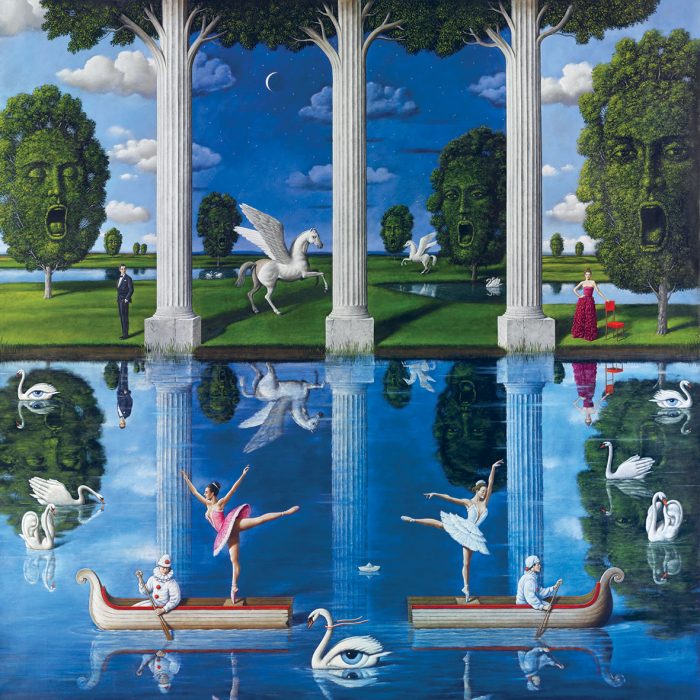 "From jazz to opera" is a unique exhibition, presenting both the first steps and the most important achievements of world-class painter and illustrator Rafał Olbiński. The works showed the artist's journey from the 1970s, when he worked for the "Jazz Forum" magazine, designing the covers and layouts of subsequent issues, to the 1990s, when he made a series of award-winning posters for the New York City Opera and went on to create posters and stage designs for a number of operas in the US and Poland.
Rafał Olbiński
World famous painter and illustrator. The autumn on 1981 he has come to New York for an exhibition of his works in Polish Institute of Arts and Sciences of America. After martial law was introduced in Communist Poland on December 13, 1981, he decided to stay in New York. His first cover was designed for "Psychology Today" in March of 1982. Soon there was next ones for "Time", "Newsweek", "Business Week", "Playboy" and many others. Through the years his unique illustrations were published in "The New York Times", where he collaborated with legendary aristic directors such as Jerelle Kraus or Steven Heller. In the 90s Olbiński created series of awarded opera posters for New York City Opera, what resulted in many poster and stage designs for opera houses in USA and in Poland. Aside from poster design or illustration he also paints in the style of poetic surrealism.
 

For his artistic achievements, he has received more than 150 awards including Gold and Silver Medals from the Art Directors Club of New York, Gold and Silver Medals from the Society of Illustrators in New York and Los Angeles, and The Big Crit 2000 award by Critique Magazine in San Francisco. In 1994 he was awarded the International Oscar for The World's Most Memorable Poster, Prix Savignac in Paris. The President of the Republic of Poland awarded Olbinski the highest award in the field of arts, the gold medal, Gloria Artis.
Organiser: Podlasie Opera and Philharmonic, Sztuka Teatr Association, Zbigniew Seifert Fund
Curator: Iga Batycka