On the occasion of 85th anniversary of the birth of Franciszek Starowieyski and 20th anniversary of creating of the Lublin Theatre of Drawing "Waiting for the Saviour", Podlasie Opera and Philharmonic launched an exhibition under the same name. Starowieyski's "Waiting for the Saviour" is the last one of his monumental Theatres of Drawing, created in Lublin in 1995.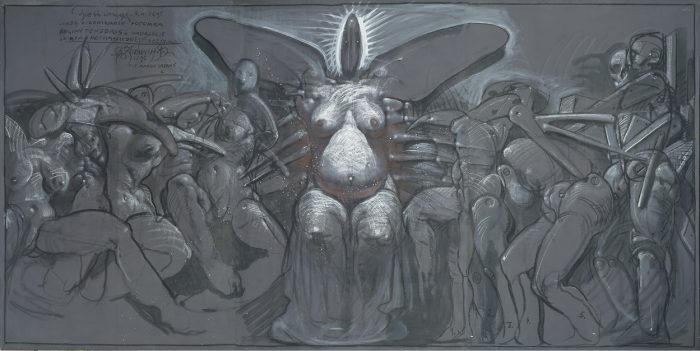 Middle part of the triptych: "Chaos, expectancy of the progeny of Regina Tenebris and oncoming of the world of mechanic dissolution"
Starowieyski's "Theatres of Drawing" created in his own technique (pastel, charcoal and red chalk on primed canvas) starting from 1980, when he made the first such piece at a plein-air workshop in Świdwin. Until 1995 he has created almost 30 of them in Poland and abroad. The incredible idea behind the Theatre of Drawing involved the creation of a new, personal art form, where the public process of creation was equally important as the finished work. Starowieyski said to have been inspired by Gustave Courbet's "The Artist's Studio". He tried to join different art disciplines into one "spectacle of all the arts", and the multimedia show engaged the viewers as well. In their presence, with a performance of naked models, the artist was building the space, beggining with a drawing of the omphalos, without the calipers, with one smooth movement of his hand. Then he put three gigantic canvas prints to stand in a line or on a square plan, and finally the public took part in a mystery, conducted by Starowieyski: artist, director, priest, magus.
The Lublin Theatre of Drawing was created in June 1995 as the last out of almost 30 works. The performance lasted four days. The artist's direct inspiration was "Król-Duch" ("The Spirit King"), an unfinished epic poem by Juliusz Słowacki, which recounted the spirit's journey across generations—an idea that strongly resonated with Starowieyski himself. The performance included two models, one of whom (an actress from Grupa Chwilowa Theatre) recited fragments of the poem to the accompaniment of Beethoven's music. In his art there are clear allusions to his two favourite eras: the Renaissance and the Baroque—the first giving him antic love for geometry, beauty of the symmetry, perspectivic space creation, and the second—the richness and boldness of the form and the content, dynamics, contrast, chiaroscuro, the interest in the anatomy, as well as macabre and turpism in the aesthetics. His work were filled with Rubens-like women shapes and animalistic, deformed human bodies. His Theatrum vitae et mortis Starowieyski created with the same set of props: bones, skulls, bird heads, serpents, magic eye and the egg of the eternity, that he put under endless metamorphosis. Since 1970 every his piece was signed 300 years earlier, and the pivotal part of the creation were stylised calligraphic description, commentary and autographs. He claimed he was haunted by a ghost of his 17th century ancestor. Starowieyski was a master of self-creation; he liked to shock not only with his art, but with his personal style and behaviour as well. "The viewer wants the artist to scandalize them, offend them, shock them"—he used to use as a motto. He was known to be extravagant, to tell absurdly impossible stories and to color up his biography. All that contributed to his legend.
Franciszek Andrzej Bobola Biberstein-Starowieyski, pseudo Jan Byk (1930–2009)
Polish graphic artist, painter, designer, stage designer, outstanding representative of Polish School of Posters, one of the biggest art collectors in Poland. Author of over 300 posters, illustrations and book graphic designs. He had over 200 individual exhibitions nationally and internationally (Austria, Belgium, 
Canada, 

France, Italy, Netherlands, Switzerland, USA). The first Polish artist to have an individual exhibition in the New York's Museum of Modern Art (1985). Laurate of many prizes, including Grand Prix of International Biennale of the Arts in São Paulo (1973), Grand Prix for a film poster of Cannes Film Festival (1974), 2nd Prize of International Biennial of Posters in Warsaw (1974), 2nd Prize of International Biennial of Posters in Warsaw (1978), Gold Plaque of International Film Festival in Chicago (1979), Silver Hugo (film poster competition, 1982), 3rd Prize of International Biennial of Posters in Warsaw (2000). His stage design for Krzysztof Penderecki's Ubu Rex (Grand Theatre in Lodz, 1994) he was awarded prestigious Golden Mask. He achieved great popularity in 1960s as an author of film and theatre posters. He managed to create an own, unique type of author's poster with a recognizable style of calligraphic precision, surrealistic themes and dynamic imagination.
Ownership of the art pieces: Cyprian Biełaniec and Andrzej Widelski
Cooperation: Zegart Agency