Chris Niedenthal is a photojournalist documenting the most important politic changes in Poland of 1970s, 80s and 90s, one of the most recognized European photojournalists and long-term "Newsweek" correspondent. The exhibition showcases a set of previously unpublished photographs shot by Niedenthal in the 70s. It was the time of his first tries in the field of photojournalism and a visual recording of his artistic sensitivity clashing with the reality of the reality of Polish People's Republic. The photographs were scanned directly from negatives and slides that have until now been stored the artist's private archives.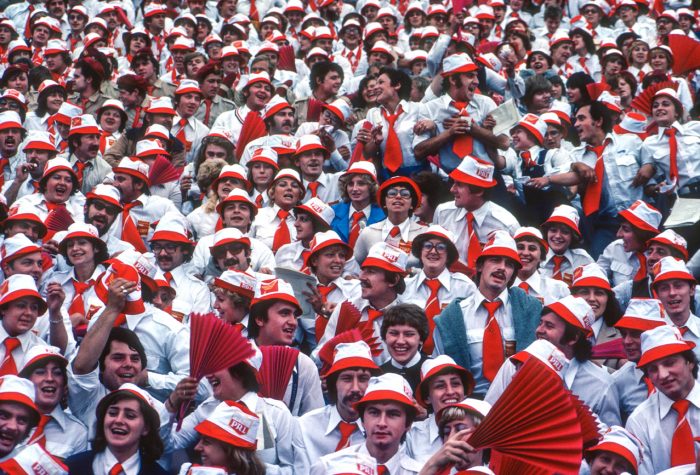 Niedenthal's most famous photograph shows an OT-64 SKOT armoured transporter stationed in front of the "Moscow" cinema in Warsaw, with Francis Ford Coppola's "Apocalypse Now" advertised on the marquee. This iconic image went on to become a visual metaphor of martial law and probably the most recognizable picturing of the whole era. Niedenthal himself wrote about it: "For me it depicts the whole martial law in one picture. But then I had no idea I were creating something so important, something that would become a sort of icon for Polish people."
In 1978, soon after Karol Wojtyła was elected by Papal conclave, Chris Niedenthal was the first photographer to create a photodocumentary in the Pope's family city of Wadowice. Next year, during Papal pilgrimage to his homeland, Niedenthal captured the photo that made the "Newsweek's" cover: John Paul II greeting the congregation on the Jasna Góra Monastery. Niedenthal was also, alongside with an English journalist Michael Dobbs, the first foreign photoreporter to enter the Gdańsk Shipyard during the 1980 strike.
During the martial law times, a photographer must have been extremely cautious, one could not openly show themselves in the streets with a camera in hands, and just having a camera could effect in an arrest. Nevertheless Niedenthal's photographs have been emerging and arriving on time to publishing houses all over the world. It had also turned out there's a great trouble with adding the description to the pictures; those were pivotal to the photoreports, but made the film smuggling very dangerous. Niedenthal started to write the key information on a piece of paper with a flamaster, then photographed those and added that roll of film to the others. Such prepared packages he handed on to tourists leaving Poland, and they delivered or organized the delivery of the material to the editorial offices, p.e. "Newsweek" offices in New York.
However, Niedenthal's art is not limited to politically sensitive photojournalism. In 1999, he presented a series of photographs entitled "Taboo", showing images of persons whose portraits are not normally taken for various reasons. Together with his friend and fellow photographer Tadeusz Rolke, Niedenthal created "Neighbour"—a series of photographs referring to Jan Tomasz Gross's book "Neighbours" and to Agnieszka Arnold's movie about the Jedwabne pogrom of Polish Jews.
Chris Niedenthal described his experience as a photojournalist in the People's Republic of Poland in his autobiographical book "Zawód: fotograf" ("Profession: photographer").
Based on M. Wróblewska's article "Chris Niedenthal" at Culture.pl.