1st Bohdan Łukaszewicz International Oboe Competition
1st Bohdan Łukaszewicz International Oboe Competition
On May 6 and 7, 2019 in the Ignacy Jan Paderewski Music Schools Complex in Białystok, the 1st Bohdan Łukaszewicz International Oboe Competition is going to be held. It is organised by "Teraz Muzyka" Foundation of Culture and Music Education and co-organised by Paderewski Music School Complex. We are proud to announce the Podlasie Opera and Philharmonic became an honorary patron of the competition.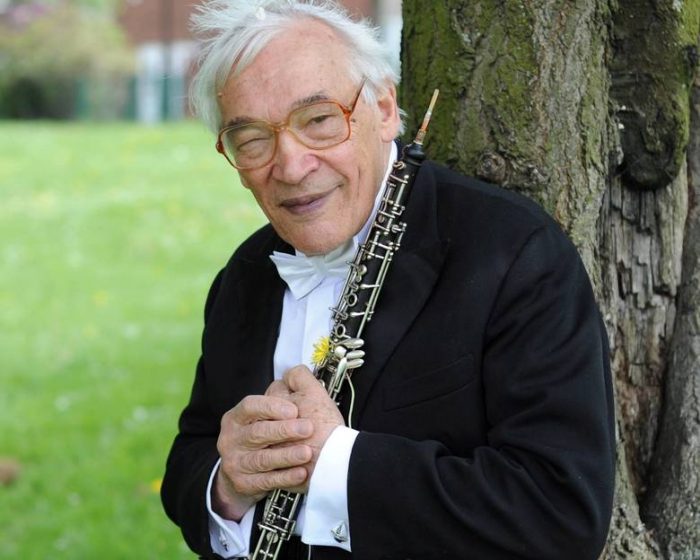 The patron of the competition is an outstanding oboist Prof. Bohdan Łukaszewicz, who would be celebrating 90th birthday on May 14. Well-known to every music lover in Białystok, for many years he has been the first oboist in Białystok Philharmonic Orchestra, in which he has worked for 26 years, and later every Friday he was seen in the audience at Podleśna Street. As an oboe teacher, for over half a century he has been teaching young generations of oboists in the Music School Complex in Białystok. One year ago we reminisced Professor during an in memoriam concert. Read more in an article on Prof. Łukaszewicz in "Kurier Poranny" newspaper.
The idea behind the competition is to popularise playing this beautiful, but hard and unpopular instrument, and to encourage oboists to develop their skills and musicality. The competition has a national range and every student, of both public and private music schools of 1st and 2nd degree, and academies and universities teaching oboe, may take part. The competitors will perform in 5 categories connected to the level of particular year (class), the age and numbers of years of learning will also be taken under consideration. The hearings will be held at the building of the Music School Complex at Podleśna 2 Street. The competition jury is composed of great Polish oboists—professors and teachers of music schools.
As part of the competition two concerts will be held. May 6, 2019 at 19.00 there will be an evening concert—competition gala, which will be honoured by special guests: Danuta Terpiłowska—live coach, creator of the "Therapy of Heart," pedagogue, director, theatre creator and activist, as well as two vocalists associated with Białystok: Katarzyna Garłukiewicz and Yulia Pecceu. May 7, 2019 at 16.00 is the date of the laureates' concert. The entrance for the competition hearings is free.
The competition is accompanied by two exhibitions: photography exhibition "Solo" by Iwo Świątkowski showing unification of a cellist with her instrument, and painting exhibition "Variation on a theme" by Adam Pikuliński, who inspired by Świątkowski's work painted his own vision of the theme, in which colour and music intertwine in the artist's creative process.
More information about the competition and accompanying events (in Polish) on the website of the Foundation.