Subscriptions for spring quarter
Subscriptions for spring quarter
The subscriptions for spring quarter of 2019 are already in sale. The spring will provide us with a lot of new, fresh sensations!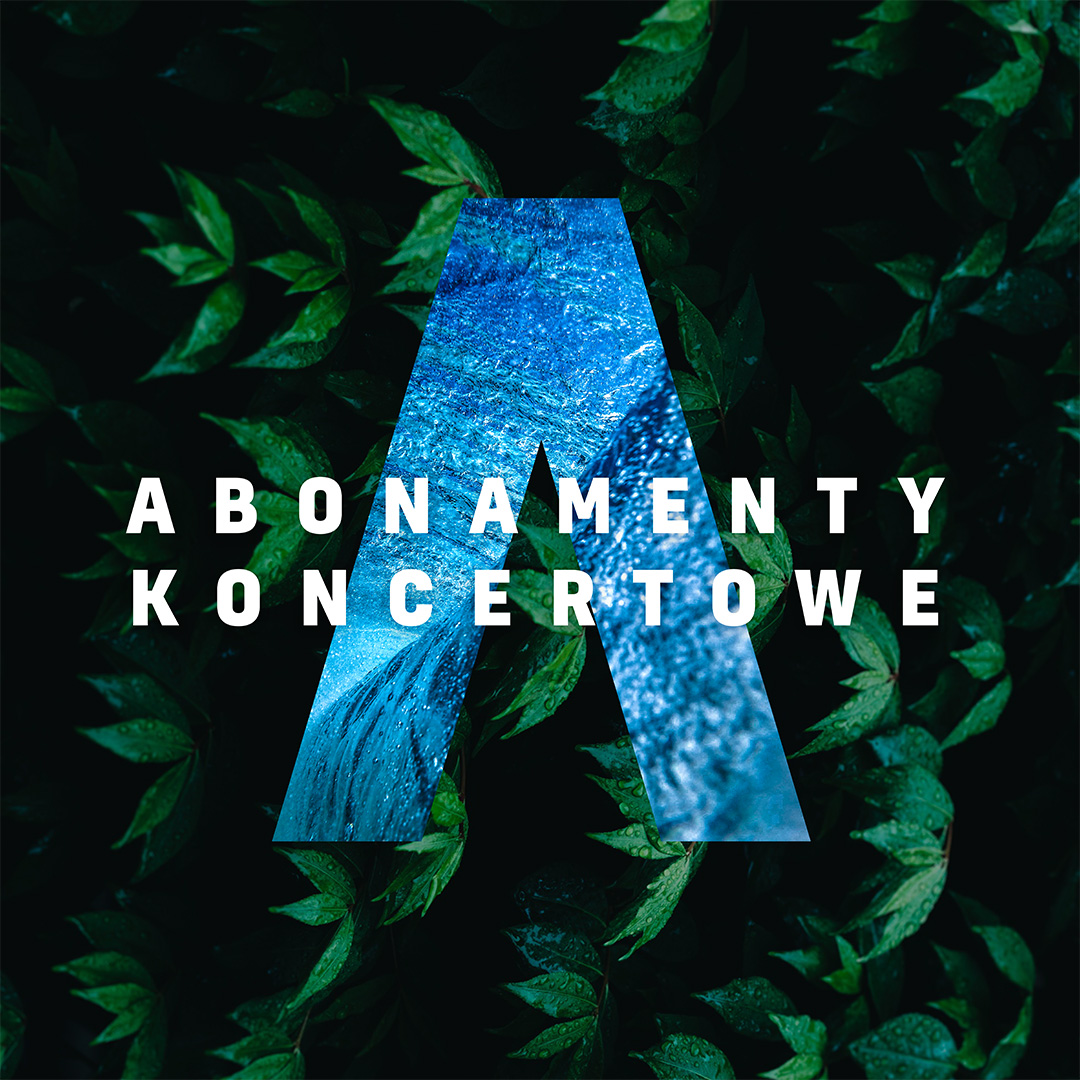 The spring will provide us with a lot of new, fresh sensations—starting with the concert "Discoveries"—diploma performance of this year's senior students. We will host such great conductors, as Antoni Wit, who will direct Podlasie Opera and Philharmonic Orchestra with the repertoire of Beethoven, Schubert, and Strauss, or Mykoła Diadiura, with the repertoire of Fauré, Debussy, and Franck. This year's passion concert will be at the same time a celebration of the 85th anniversary of the birth of Maestro Krzysztof Penderecki; three of his compositions will be performed, followed by the Mozart's Great Mass in C minor. We will be honoured by the return of Włodek Pawlik Trio, this time performing Stanisław Moniuszko's works as arranged by Pawlik. A profound reflection over life and death and suffering will accompany us again in May: we will dedicate a concert to Mahler's "Ressurection" Symphony no. 2 in C minor. Of course, there will also be chamber concerts. In May there will be Mariusz Ciołko's piano recital, and in June "Consort 415" Early Music Ensemble accompanied by Podlasie Opera and Philharmonic Chamber Choir will perform four pieces by Moniuszko. The season will be closed by a strong favourite of our music lover's: Orff's "Carmina Burana" with great soloists, under the direction of Massimiliano Caldi.
There will sing Karina Skrzeszewska (soprano), Adam Sobierajski (tenor), Tomasz Rak (baritone), Iwona Socha (soprano), Anna Lubańska (alto), Anna Wolfinger (soprano), Joanna Motulewicz (alto), Paweł Cichoński (tenor), Mateusz Stachura (bass), Joanna Markowska (soprano), Paulina Malinowska (alto), Andrzej Klepacki (tenor), Artur Mądry (bass), and pianists: Mariusz Ciołko, Paweł Kowalski and Artur Jaroń.
The second quarter of 2019 will consists of 9 concerts (not including the one moved from January, "Directions of the world"). Standard Music Lover's Subscription can be purchased in the price of 266 PLN or, for concession tickets, 221 PLN. You save 25% compared to the summed cost of single tickets and you are guaranteed a seat of your choice at every concert from the package. You can also choose Your Own Subscription: you pay the regular price of 5 concerts of your choice and get an additional one for concert on June 7 for just 1 PLN. You can purchase the subscriptions in Opera's box office up to April 4, 2019. More info here: Subscriptions.
DISCOVERIES
5 IV 2019
Concert Hall / Podleśna 2 / 19.00
DIPLOMA CONCERT OF STUDENTS OF SUBSIDIARY OF FRYDERYK CHOPIN UNIVERSITY OF MUSIC IN BIAŁYSTOK
Podlasie Opera and Philharmonic Orchestra
Mirosław Jacek Błaszczyk—conductor
Mikalai Mileshka—piano
Hanna Pawlicka—violin
Elżbieta Sandel—violin
Patrycja Pawełczyk—double bass
Bernard Niezgoda—trumpet
Joanna Jurczuk—clarinet
Mateusz Kurkowski—clarinet
Małgorzata Piotrowska—soprano
Sergei Rachmaninov—Concerto no. 2 in C minor op. 18 p. I
Maurice Ravel—"Tzigane" Concerto-Rhapsody
Romuald Twardowski—Capriccio in blue
Giovanni Bottesini—Allegro di Concerto "Alla Mendelssohn"
Aleksandra Pachmutowa—Concerto for trumpet
Felix Mendelssohn-Bartholdy—Konzertstück no. 2 op. 114 for two clarinets
Wolfgang Amadeus Mozart—"Hallelujah" aria from "Exsultate, jubilate" KV 165
Gaetano Donizetti—Norina's cavatina "Quel guardo, il cavaliere" from "Don Pasquale"
MAESTRO
12 IV 2019
Concert Hall / Podleśna 2 / 19.00
BEETHOVEN, SCHUBERT, STRAUSS, AND ALL SHADES OF ARDENT EMOTIONS
Podlasie Opera and Philharmonic Orchestra
Antoni Wit—conductor
Ludwig van Beethoven—"Leonore" Overture no. 3 op. 72b
Franz Schubert—Symphony no. 8 in B minor "Unfinished Symphony"
Richard Strauss—Eine Alpensinfonie op. 64
FIRMAMENT
17 IV 2019
Concert Hall / Podleśna 2 / 19.00
CONCERT ON THE OCCASION OF THE 85TH ANNIVERSARY OF THE BIRTH OF KRZYSZTOF PENDERECKI
Podlasie Opera and Philharmonic Orchestra and Choir
Mirosław Jacek Błaszczyk—conductor
Violetta Bielecka—conductor, choir preparation
Anna Wolfinger—soprano
Joanna Motulewicz—alto
Paweł Cichoński—tenor
Mateusz Stachura—bass
Krzysztof Penderecki—Song of Cherubim for mixed choir a cappella
 Missa brevis for choir a cappella
 "O gloriosa virginum" for mixed choir a cappella
 Wolfgang Amadeus Mozart—Great Mass in C minor KV 427
PAWLIK/MONIUSZKO—POLISH JAZZ
10 V 2019
Concert Hall / Podleśna 2 / 19.00
TWO GREAT ARTISTS, TWO AGES, TWO MUSICAL SENSITIVITIES
Włodek Pawlik Trio
 Włodek Pawlik—piano
 Paweł Pańta—double bass
 Adam Zagórski—percussion
Programme: works from the CD "Pawlik/Moniuszko—Polish Jazz," inspired by compositions of Stanisław Moniuszko, arranged by Włodek Pawlik, e.g. "Prząśniczka," "Pieśń wieczorna," "Ten zegar stary," "Gdyby rannym słonkiem," "Szumią jodły na gór szczycie," "Aria z kurantem"
POLYPHONIES
24 V 2019
Concert Hall / Podleśna 2 / 19.00
MARIUSZ CIOŁKO'S RECITAL
Mariusz Ciołko—piano
Ludwig van Beethoven—Piano Sonata in E major op. 109
Frédéric Chopin—Fantaisie in F minor op. 49, Scherzo in B minor op. 31
Johannes Brahms—Variations and Fugue on a Theme by Handel op. 24
PRIMAL LIGHT
31 V 2019
Concert Hall / Podleśna 2 / 19.00
WHAT IS LIFE AND WHAT IS DEATH? WHY DO WE LIVE AND WHY DO WE SUFFER?
Podlasie Opera and Philharmonic Orchestra and Choir
Mirosław Jacek Błaszczyk—conductor
Iwona Socha—soprano
Anna Lubańska—alto
Violetta Bielecka—choir preparation
Gustav Mahler—Symphony no. 2 in C minor "Ressurection"
MIEĆ W MIŁOŚCI KRAJ OJCZYSTY
7 VI 2019
Concert Hall / Podleśna 2 / 19.00
MONIUSZKO'S LESSON OF PATRIOTISM
"Consort 415" Early Music Ensemble
 Amadeusz Buczyński—violin, music director
 Julia Dombek—violin
 Radosław Koper—violin, viola
 Anna Mikołajczak—viola
 Krzysztof Dombek—cello
 Rafał Makarski—double bass
 Anna Krzysztofik-Buczyńska—positive organ
Joanna Markowska—soprano
Paulina Malinowska—alto
Andrzej Klepacki—tenor
Artur Mądry—bass
Podlasie Opera and Philharmonic Orchestra Chamber Choir
Violetta Bielecka – choir preparation
Stanisław Moniuszko—String Quartet in F major
 Latin Mass in E-flat major
 Mass in A minor
 "Ojcze nasz" (Lord's Prayer)
A FRENCH EVENING
14 VI 2019
Concert Hall / Podleśna 2 / 19.00
SOUNDS PAINTED BY SENSATIONS
Podlasie Opera and Philharmonic Orchestra
Mykoła Diadiura—conductor
Artur Jaroń—piano
Gabriel Fauré—"Pelléas et Mélisande" suite op. 80
Claude Debussy—Fantaisie for piano and orchestra
César Franck—Symphony in D minor
DISCOVERED
28 VI 2019
Main Stage / Odeska 1 / 19.00
A GREAT MASTERPIECE ENDING AN EXCEPTIONAL SEASON
Podlasie Opera and Philharmonic Orchestra and Choir
Podlasie Opera and Philharmonic Children's Choir
Massimiliano Caldi—conductor
Karina Skrzeszewska—soprano
Adam Sobierajski—tenor
Tomasz Rak—baritone
Violetta Bielecka—choir preparation
Ewa Barbara Rafałko—children's choir preparation
Carl Orff—"Carmina Burana"—scenic cantata for solo vocals, mixed choir, boys' choir and orchestra